July 20, 2015
An Introduction to NodeBots
Starter Kits
With all of the above kits, keep in mind that none of them are targeted towards NodeBot development. So the examples in booklets and such are written in the simplified C++ code that Arduino uses. For examples using Node, see the resources below.
Resources To Learn NodeBots
There are a few key spots where you can learn how to put together various NodeBot projects on the web. Here are a few recommendations:
The SimpleBot
Andrew Fisher, a fellow Aussie NodeBot enthusiast, put together a rather simple project for people to build for their first NodeBot experience. It is called a "SimpleBot" and lives up to its name. It is a NodeBot that you can typically build in a single day. If you're keen on getting an actual robot up and running, rather than just a basic set of sensors and lights going on and off, this is a great project choice to start with. It comes available to Aussie attendees of NodeBots Day in one of the ticket types for this very reason! It is a bot with wheels and an ultrasonic sensor to detect if it's about to run into things. Here's what my own finished version looks like that I've prepared as a sample for NodeBots Day this year: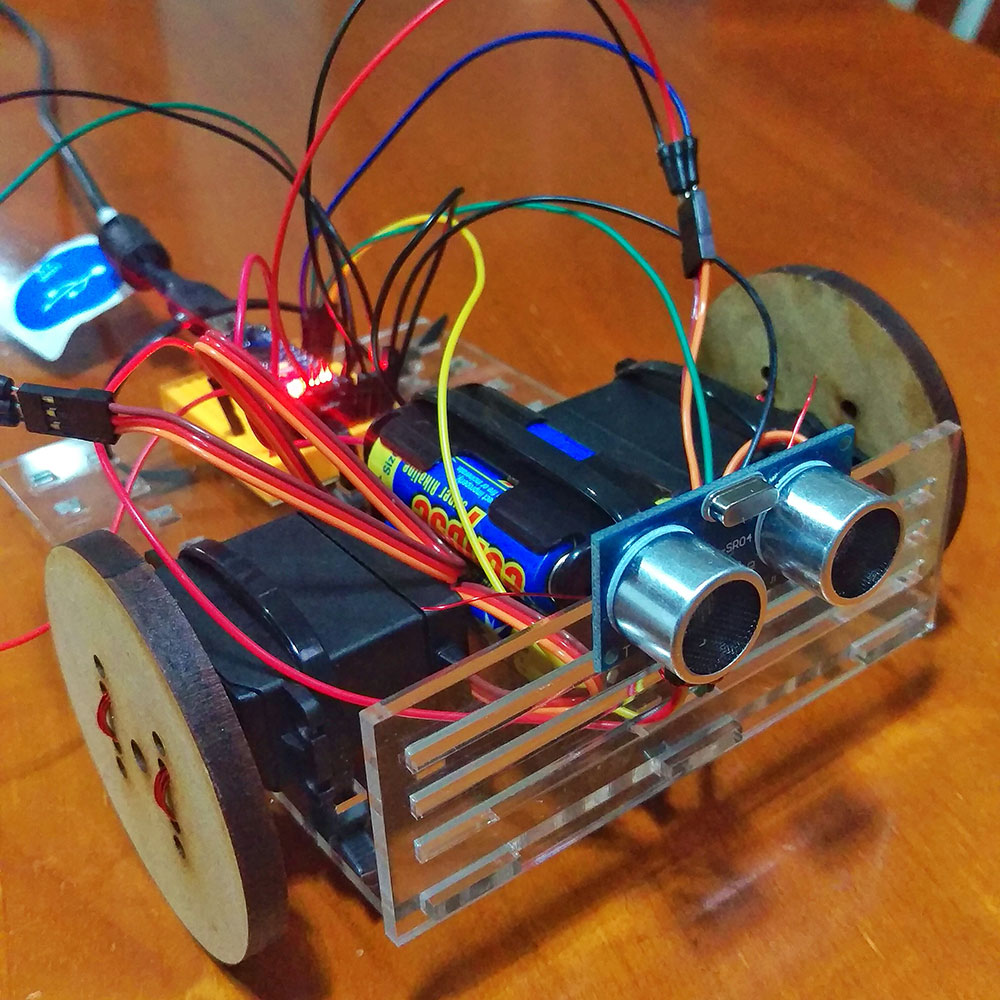 A list of SimpleBot materials needed and some sample Node.js code is available at the SimpleBot GitHub repo. Andrew also has a YouTube video showing how to put the SimpleBot together.
Andrew also collaborated with the team at Freetronics to put together a SimpleBot Arduino shield that might also be useful to people who'd like to give it a go as a learning project without needing to solder anything: SimpleBot Shield Kit.
Conclusion
That concludes a simple introduction into the world of NodeBots! If you're interested in getting involved, you've got all the info you should need to begin your NodeBot experience. I'll be organising the International NodeBots Day event in Sydney, so if you're a Sydneysider, grab a ticket and come along – International NodeBots Day Sydney, July 25.
If you build yourself a pretty neat NodeBot with any of the above resources, leave a note in the comments or get in touch with me on Twitter (@thatpatrickguy), I'd love to check out your JavaScript powered robot!
Continue reading %An Introduction to NodeBots%